Ironing is a monotonous occupation and many unloved. But I have to iron. When more, when less, and in large families, ironing is always a lot. We were interested in how manufacturers in the 21st century are proposing to facilitate this process? Maybe even make it fascinating? And we found a device that interested us. MIE Maxima is a whole smart system: you choose the type of fabric and iron. Or you steam out: in the complete set the iron, отпариватель and an unusual ironing board. Find out if all this works well, whether it is convenient: made a video and a test.
---
Video version of the test of the smart ironing system MIE Maxima:
Subscribe to our

special channel

about the home technician e
---
Do people really do not like to iron?
"Cosmic" ironing system, and at the same time found out whether people are so disgusted with ironing. Our expert Daniil Golovin conducted a survey on the social network. The majority and the truth are not fans of ironing:
Brief history of the iron
If you do not take into account the very ancient ways of ironing clothes – with the help of two flat stones – or, as it was in Russia, a roll (rolling pin) and a corrugated board rubel, pralik), then before ironing the heated metal came up in ancient Greece – they used a hot metal rod to tidy up tunics and chitons.
Valek and the pralik helped to iron our ancestors
While humanity did not know electricity (and some time after learned to) use iron (in the form they have like the modern), which were placed in the hot coals later preheated cast iron ingot. [19659011] and were cast iron irons, which are entirely warmed up in the furnace. Without use, they could not be used (very hotly), so there were removable pens: while one iron slowly warmed up, stroked another – in the house for this there was a pair of irons.
Molded irons of the late XIX century (left) and coal iron of the beginning of the XX century (right)
There are also gas irons – the gas from the cylinder was fed into the iron and burned there, heating the sole. Spirits irons worked on the principle of a kerosene lamp: inside burned alcohol, the iron was heated. All this was very uncomfortable, and, often, just dangerous.
Birthday of the electric iron – June 6, 1882, when the American Henry Seely (Henry Seeley) patented his invention. Of course, the elektro-yug of the century before last was not as comfortable and safe as modern, but most importantly, that it appeared. Further technical progress has done its work.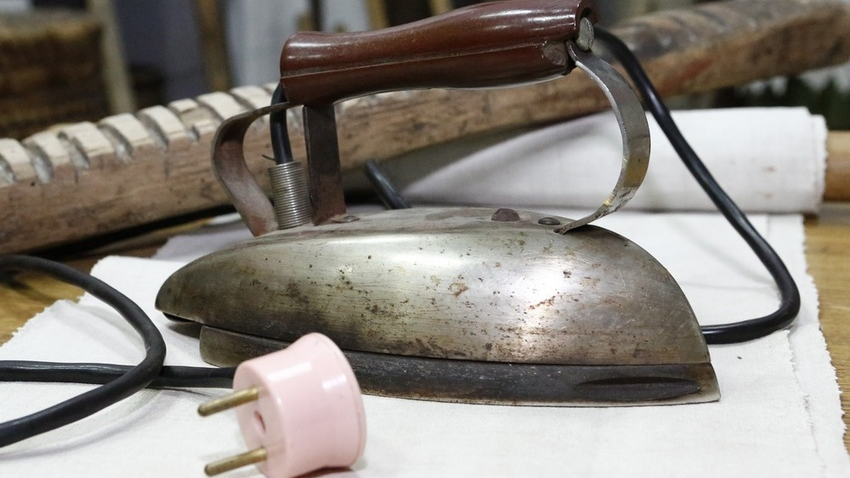 Electrician of the middle of the last century
Now there are several types of irons: conventional electric, with an integrated steam generator, with a separate more powerful steam generator. But the top of ironing technology is a special ironing system that includes several elements at the same time and an expanded range of possibilities.
Clever ironing system MIE Maxima: main
MIE Maxima is a symbiosis of several technological solutions, which, according to the manufacturer, facilitate ironing. There is an integrated steam generator, steam iron and steamer with a hanger. As the basis of the whole device – folding ironing board with variable height to adjust it to the user's height.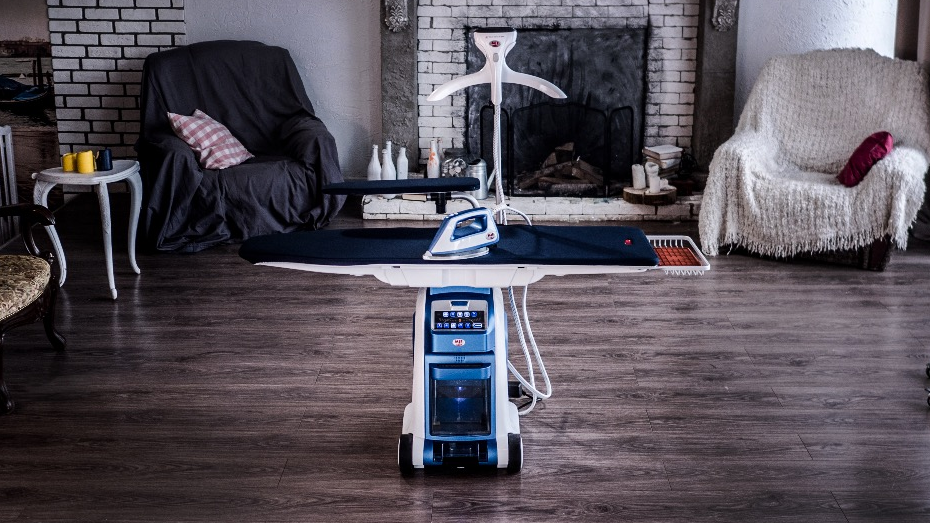 Clever ironing system MIE Maxima is ready to work. Cost – 120 000 rubles *
(* price is current on the date of publication)
Electronic control with a large color touch screen. There are auto programs for different fabrics: synthetics, silk, wool, cotton and linen.
---
See also: Full inspection. MIE Elemento vacuum cleaner test
---
The idea is that you just touch the desired sensor field, and the system optimizes the settings of the iron or steamer (depending on what you are using – this is also selected). Calculate the intensity of steam supply, the temperature of heating the soleplate of the iron. There is nothing else you need do – just iron.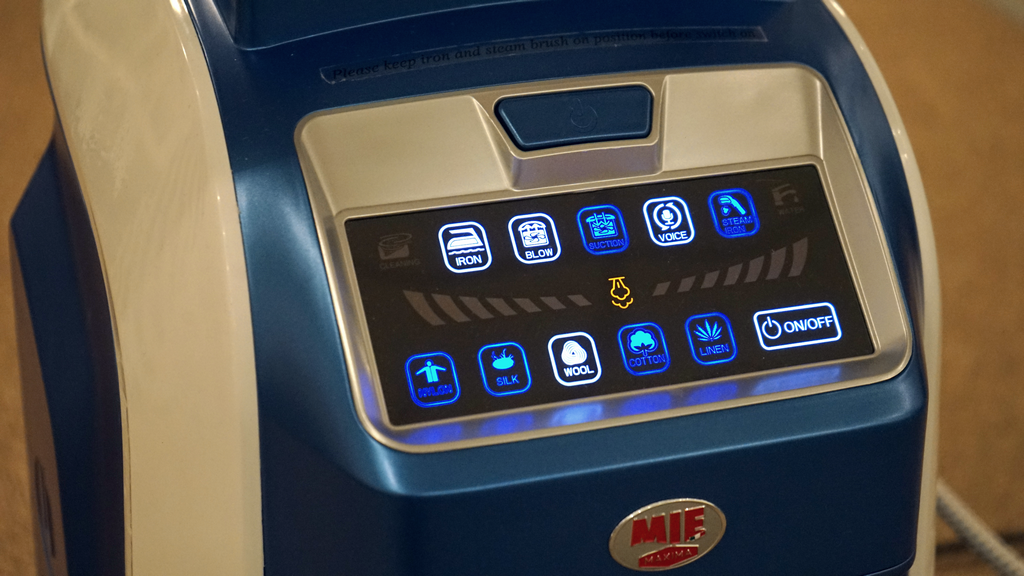 Intelligent ironing system MIE Maxima. Touch control panel
Another interesting point: the function of the steam and blowing. The first is needed, so that things and the surface of the ironing board are not too wet, there are no wet spots and, as a possible consequence, divorces on the fabric. A part of the steamer that has done its job (it has already taken part in the care of the thing) is quickly removed by the built-in fan.
The main technical characteristics of the MIE Maxima ironing system:

– power: 1500W steam generator, 700W iron, 600W steamer
– maximum pump pressure: 6 bar
– constant steam supply: 160 g / min
– capacity of the steam generator tank: 3 l
– steam and blowback functions
– sole of iron and steamer: cermet
– storage of iron and steamer: in the system casing
– height adjustment
– an additional small board for ironing the sleeves
– electronic touch control
– automatic shutdown after 15 minutes of inactivity
– country of origin: Italy
The blower helps to iron " complicated "things: the fan, on the contrary, pushes air into the ironing board cover, it rises and spreads the thing lying on top. Thus, it seems to be smoothed by the air also from below, which helps to iron the wrinkles, jams and other "difficult" places faster.
MIE Maxima. Built-in fan for steam and blowback modes, perforated surface of the board under the cover
After turning on the MIE Maxima, you can begin to iron or steam after two minutes (the steam generator needs to "create" the first steam). If the system does not use 15 minutes – it will automatically turn off, including an iron. By the way, it can be left on the board horizontally without problems – a special fluoroplastic nozzle on the sole eliminates the burning of the fabric, and, thanks to a multitude of holes, serves as a uniform distribution of steam during ironing.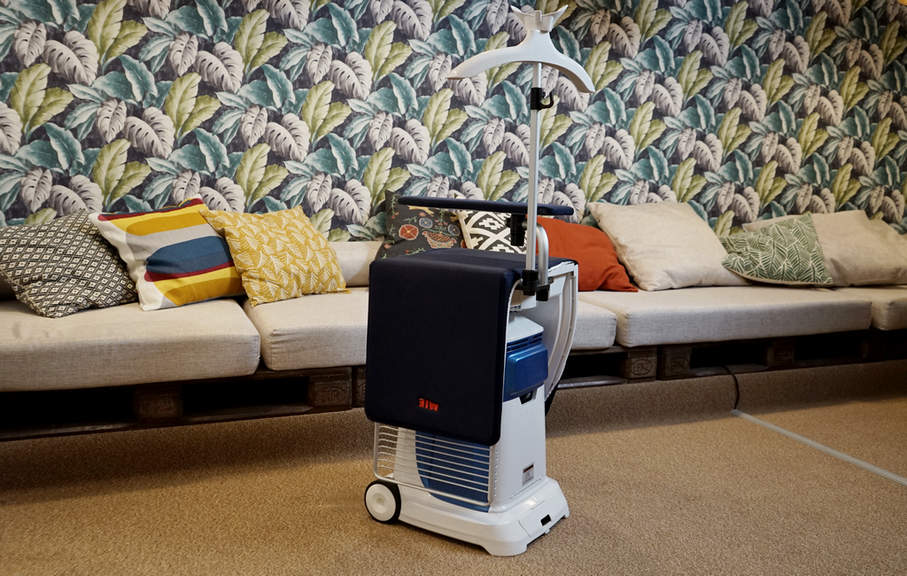 MIE Maxima. In folded form, the system takes up a minimum of space
Test results
We arranged an impromptu battle between the girls and the guys: they figured out who would better and quickly tidy up the men's shirt (see video). Our Natasha Kashentseva from the editorial staff stroked her with an iron, choosing a program for cotton and using all the "gadgets" of the ironing system (blowing, venting). She took about three minutes for everything, taking into account the limited shooting time – the shirt was quite ready for use – it could be worn and did not look dull.
Natalia Kashentseva, chief editor of the TV program " The miracle of technology ":

I do not stroke too often, but I like this business – if you do not rush anywhere, it calms and somehow relaxes. So I was very interested in trying this smart ironing system. Especially since I've never used one like this. What can I say? I, perhaps, did not have enough shooting time, and then the shirt would be perfect. At the same time, I was not tired, and the result, even in a short time, was very good – the crumpled shirt was already possible to wear.
MIE Maxima. Small swivel board for sleeves and steam iron
And Danya Golovin worked with a steamer, also with a man's shirt. Even surprising, it took him less time – just over two minutes. Powerful steam delivery in the mode of processing cotton fabrics made it possible to bring the shirt so quickly into a completely "divine" look – it was not ashamed to put it on, as they say. Note that auto-modes for tissue types are relevant for both iron and steamer.
Daniil Golovin, expert of the Internet project Chudo.tech:[19659011(IdonotlikestrokingbutIhavetoBasicallyjusttheshirtsIhavearegularironandaregularironingboardsoittakes10minutesforoneshirtEvenwiththefactthatthesuperidealresultisnotneededJuststrokingtoremovethevisiblewrinklessothatyoucanwearandlooknormalAndwithMIEMaximathetimesavingswerealmostfivetimesandthiswiththesteamer-that'swhatIdidnotexactlyexpectIt'sverycoolinmyopinion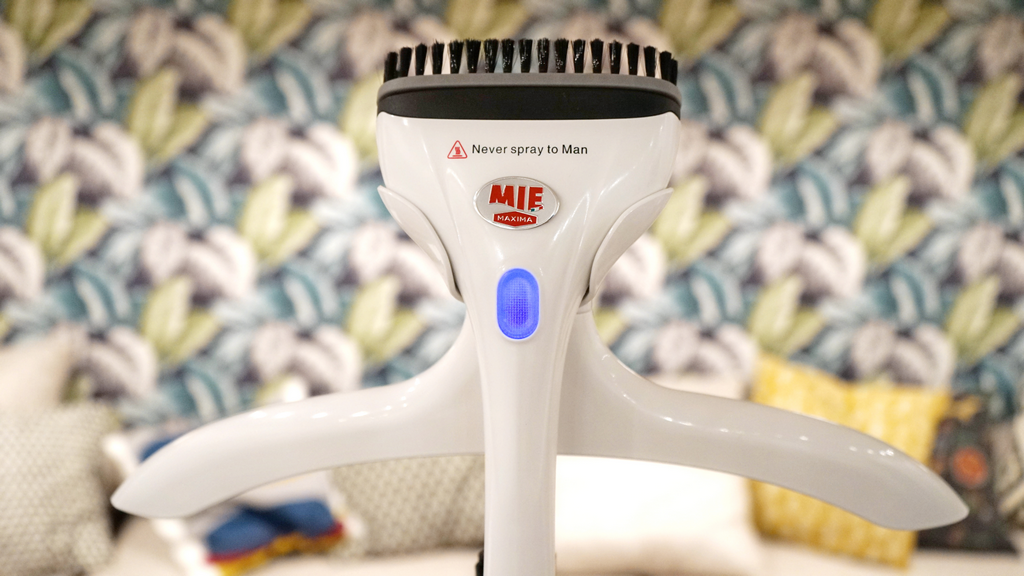 MIE Maxima. Steamer with detachable brush head (can be used for steam cleaning of different surfaces)
Thanks to the high power, auto programs for different fabric types and auxiliary ironing board modes – tapping and air blowing – the clever Mie Maxima ironing system makes it easy to iron a wide variety of things. Men's shirts, complex in the care of women's dresses and blouses (with decorative elements, from "delicate" fabrics, etc.), and much more. For ironing or steaming, less time and effort is spent, and the process itself is much more convenient than with a conventional iron.
By the way, the steamer, thanks to a removable brushhead, is also suitable for processing various outer clothing (which is uncomfortable or impossible to iron) and other "complicated" things.
Verdict Chudo.tech
We put MIE Maxima on top five for ironing and steaming things. It really greatly simplifies and accelerates these monotonous and unloved processes.

For convenience she gets 4 points – a half-point was taken because she is not too convenient to move: two chassis and handles are not enough, you need to think about this moment. Another minus a half point – for a low-lying control panel: you have to bend over to it. Exit is the transfer of the panel or control from the smartphone, via the mobile application.

As for the design, at least we have no special complaints in this regard, but this, whatever one may say, is an ironing board. Let and clever, modern. So impressed by its appearance, to put five, we can not – a solid four.

The overall score for the test is 4.3 points.

Note that MIE Maxima is a smart premium ironing system. And the cost of her corresponding – 120 000 rubles. If you spend this money, then you will not regret – ironing with its help is very cool. The process is highly technological and at the same time easy.

MIE Maxima is ideal for those who have lots of ironing in the family, and also if they have to put things in order "complicated" in terms of ironing things.
---
Another video.
Everything about the clever teapot that makes tea itself:
---
Subscribe to our

special channel

about home appliances.