Wine is beautiful. If moderately and in good company. Well, if you just buy a bottle in the store for another weekend. And if you wake up passion and want to collect wine? Where to store them? To dig a cellar? No – in the wine cabinet. In the continuation of a series of joint materials with the German company Liebherr, we tell (and show): what is a modern wine cabinet.
---
Subscribe to our

special channel

about home appliances
---
Five facts about wine
1. The history of winemaking dates back to the Neolithic period. Wine is one of the oldest beverages known to man, along with beer, kvass or honey. It is believed that the wine industry began to develop about 6000 years BC, in the Transcaucasus, as well as in the territories of modern Turkey and Iran.
2. According to the author of The History of the Peloponnesian War, the ancient Greek Thucydides (he is considered the founder of historical science), the inhabitants of the Mediterranean said goodbye to barbarism only when they began to cultivate grapes and olive.
Dionysus. Ancient Greek god, patron of viticulture and winemaking. Fragment of sculpture
3. All the main and now well-known wine regions of Europe were determined in the Middle Ages. A significant role in grape growing and winemaking was played at that time by monasteries – monks brought out new varieties of grapes, which then went on to produce wine.
4. In the 17th century (New time), competition with newfangled coffee and cocoa, as well as fortified wines, served to noticeably improve the quality of classical wines – their varietal composition, methods of preparation and storage. Also during this period, the wine was bottled and used by the corks – this greatly facilitated transportation. In the XVII century there was also a sparkling wine (champagne).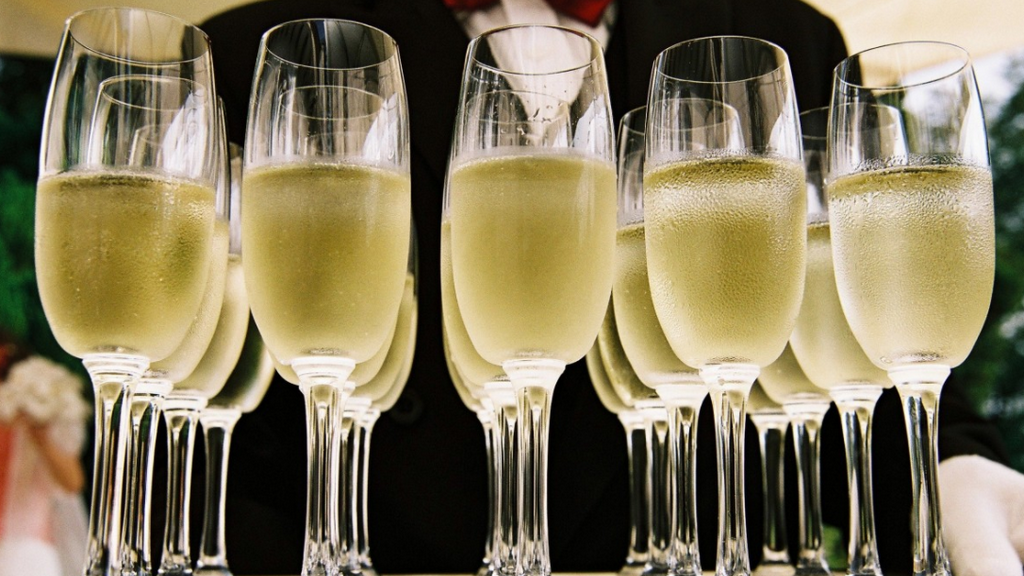 Sparkling wine appeared in the XVII century
5. In Russia it is possible to talk about the development of winemaking since the second half of the XIX century, when Prince Lev Golitsyn created wineries in the Crimean Massandra and the Kuban Abrau-Dyurso.
What are wine cabinets
Wine cabinet is a modern alternative to a wine cellar. What cellar in the city? There are wine cabinets thermoelectric and compressor. Daniil Golovin, expert Chudo.tech
The thermoelectric is highly dependent on external conditions, such models, for example, even at room temperature, it is more difficult to create the right storage conditions in the working chamber, for example, white and sparkling wines (for them, the temperature should be lower than for red ones).
In compressor cabinets, the compressor, an ordinary refrigerator. This is steeper, primarily because the range of temperatures maintained is wider, much less dependent on ambient temperature conditions.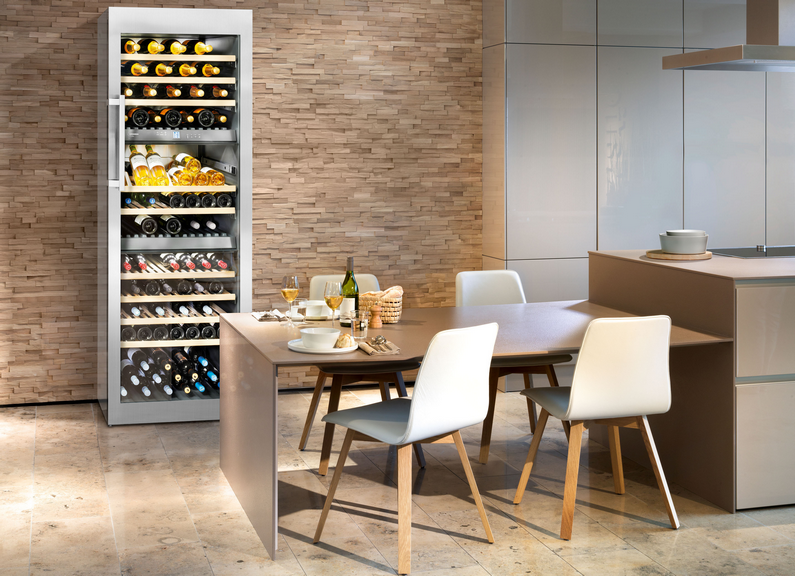 Compressor wine cabinet is much less dependent on external conditions (in photo: Liebherr WTes 5872 Vinidor)
Wine cabinets are single-zone and multi-zone. In the first case, the device can support only one temperature, which limits the owner in creating optimal storage conditions for different wines. If you are going to store more than one type of wine, pay attention to two or three-zone cabinets.
Three-zone (three-temperature) wine cabinets (such as Liebherr WTes 5872 Vinidor from our video) allow, for example, to store red wines at 16 ° C , white at 12 ° C, and sparkling – at 5 ° C. Alternatively, one of the zones can be used to prepare the wine for serving – the temperature in this case often differs from the storage temperature.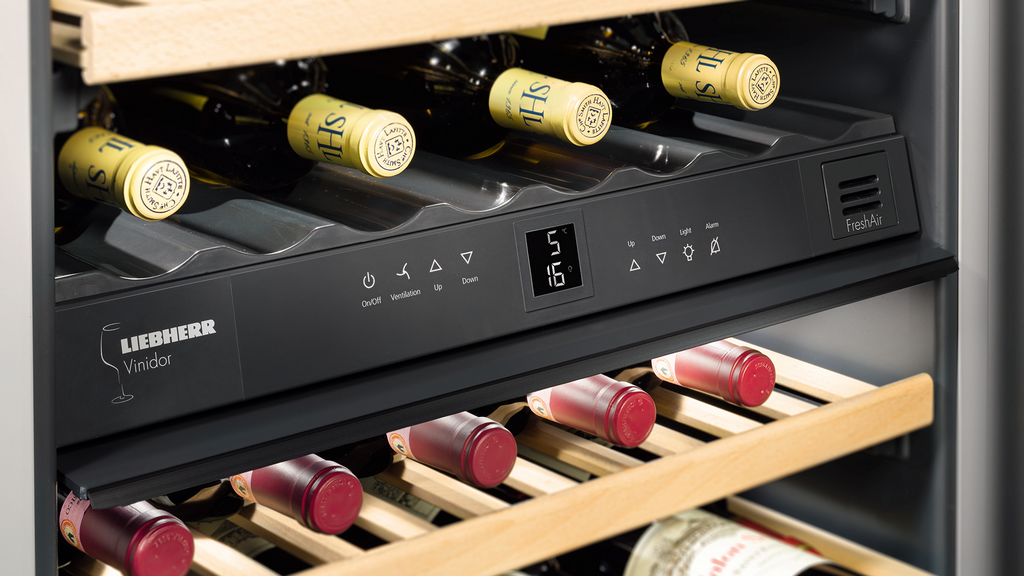 The most advanced wine cabinets are two- and three-zone. Suitable for storing different wines
Wine cabinets and capacity are different. There are very small – eight bottles. Usually it is an inexpensive thermoelectric model and can not be taken seriously. It's an option to boast to your friends, amuse your ego: they say, I keep wine in a wine cabinet, a connoisseur. However, they support the necessary temperature, so you can be calm.
---
Read and see also: Where to put the freezer? Layfherk from Liebherr
---
If you are serious about the collection of wine, and not about a few bottles placed in the wine cabinet until the next weekend, you need to choose cabinets with a capacity of at least 50 bottles, or better not less than 100. It's about standard bottles like "Bordeaux ", They serve as a unit of measure.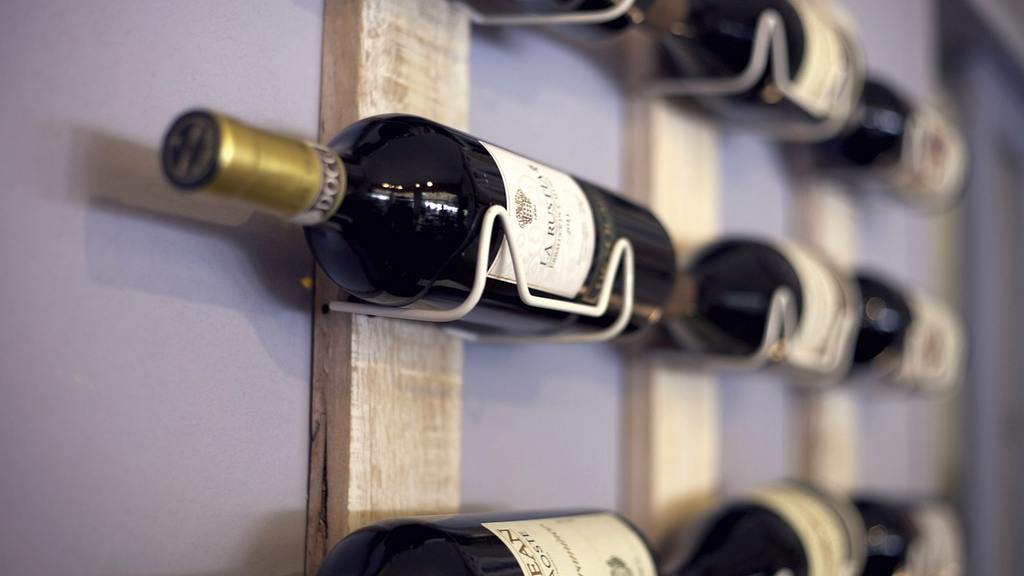 Bordeaux is the most common type of wine bottle
The main thing about the wine cabinet Liebherr WTes 5872 Vinidor
Agree, if you give about 280 000 rubles for the wine cabinet (that's how much our hero costs) you need to be sure that it's not in vain. We have studied the three-zone WTes 5872 quite well and believe that on its basis it is possible to form an opinion on what kind of modern technology this category should be.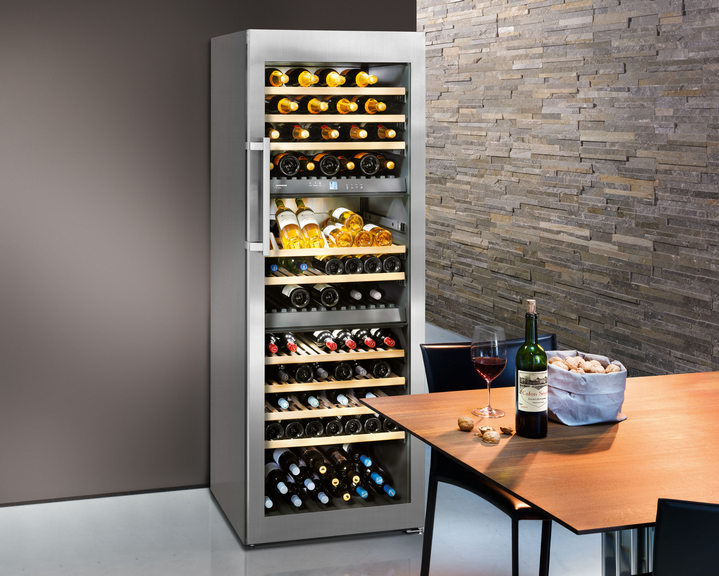 Wine cabinet of Liebherr WTes 5872 Vinidor
The compressor . As in the case of a refrigerator, this is the "heart" of the wine cabinet. In the WTes 5872 it is inverter. The inverter converts the alternating voltage into a constant voltage, and then again into an alternating voltage, but already optimized (of the right frequency) for the most efficient operation of the compressor. In addition, such a compressor lasts longer, works quieter, minimizes vibration – which is especially important for storing wine.
---
Read and see also: French Door refrigerators – five main facts
---
Electronic control . It is WTes 5872 sensory and not complex. Electronics allows you to set and control the correct temperature for storing wine to within a degree. This is just the case when this approach is really important. In the case of "temperature" problems there will be an audible signal. There is a panel lock – protect against accidental change of settings.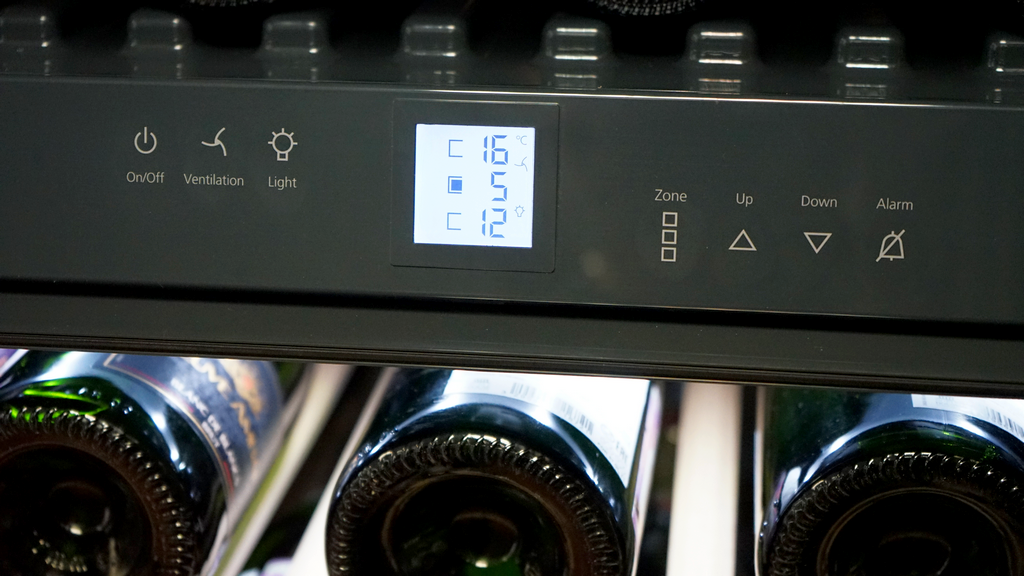 Wine cabinet Liebherr WTes 5872 Vinidor. Control panel
Humidity control . The most important point – in the wine cabinet Liebherr WTes 5872 provides automatic control of the humidity level. You simply activate this function and humidity is automatically maintained at a level of not less than 60% (optimal for wine storage: 60-80%). If the humidity is below normal, the cork dries and the air gets into the bottle if there is a higher risk of mold.
The main technical characteristics of the Liebherr WTes 5872 wine cabinet:

– type: compressor wine cabinet (refrigerator)
– temperature zones: three
– refrigeration circuit: three
– range of temperature maintained: + 5 ° C -20 ° C
– total usable volume: 496 l
– capacity: 178 bottles of 0.75 l
] – energy efficiency class: A
– noise: up to 38 dB
– shelves: 13 wooden
– shelves on telescopic rails: 10
– The demo shelf transformer
– door closer
– glazed door with UV protection
– Price: 280 000 (Information correct at time of publication)
Shelf . They Liebherr WTes 5872 wooden, which additionally protects from vibration – it is important to be at fault. There are 13 in all, all with telescopic guides: the owner is comfortable, and the fault is safe (no unnecessary "jerking" and accidental dropping of bottles).
And the shelves are not varnished – so there was no unnecessary smell (wine cork likes to "absorb "Smells, and this can affect the taste and bouquet of wine). There is a demonstration shelf where you can put several "stars" of the wine collection – so that they can be seen better. When such a need disappears, the shelf can be transformed into a regular one.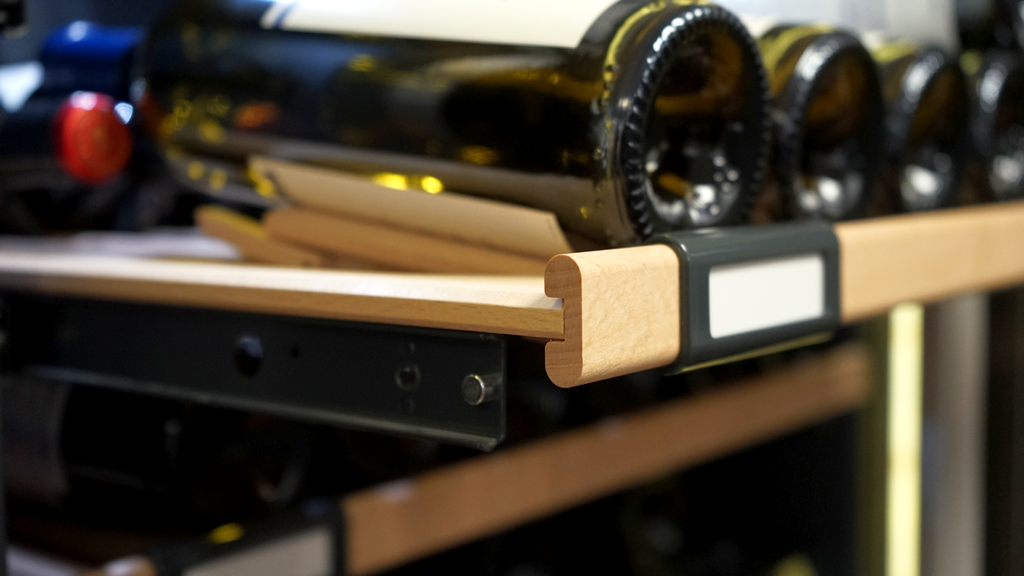 Wooden shelves extinguish the vibration possible with the operation of the cooling system of the wine cabinet
Carbon filters . With unnecessary smells called to effectively fight, first of all, they. In the wine cabinet Liebherr WTes 5872 there are three, replaceable – in each zone.
The tinted glass unit in the door. This is not just for beauty and thermal insulation. The Germans thought about protecting the wine from direct sunlight (ultraviolet radiation). Wine does not like bright light – it oxidizes tannins (enzymes that give wine its special taste), the drink spoils.
Door closers . That she (the door) does not clap, did not shake the contents of the wine cabinet (remember – peace!). Someone will say that the door itself can be gently covered. Undoubtedly, but sometimes the hands are busy, something is distracting – then it is especially useful: the door will quietly close if you close a little not completely. The door itself with sound alarm – will work if you forget to close it.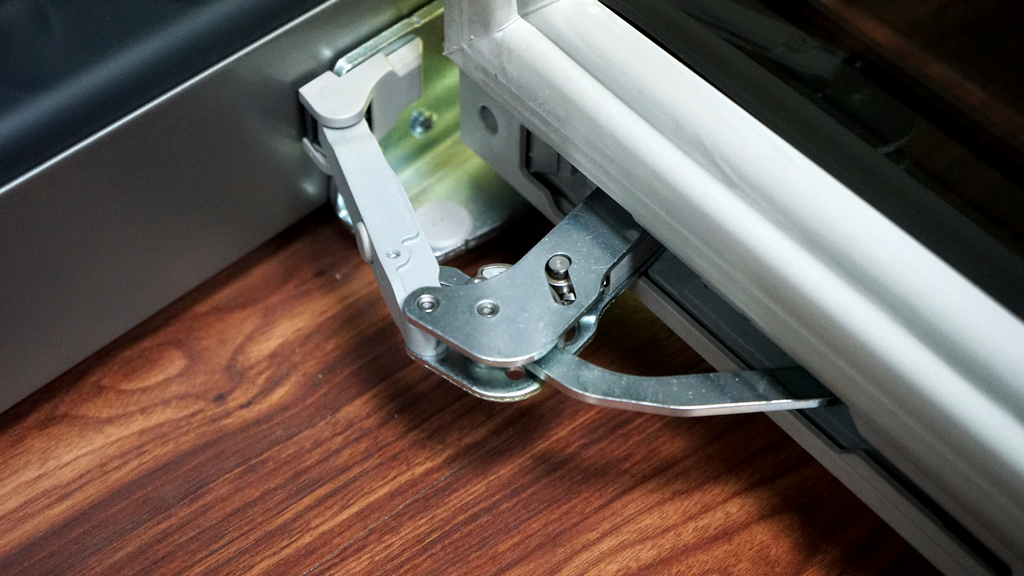 The door closer is needed to smoothly close the door, without "shaking" the cabinet and bottles of wine
LED lighting with a smooth brightness change. When the wine cabinet is closed, it is dark. And when you open it, the light turns on smoothly. Note that the lighting is provided for each of the three zones Liebherr WTes 5872. LEDs are good because they are durable, economical and do not increase the temperature in the wine cabinet.
Verdict Chudo.tech
Liebherr WTes 5872 Vinidor is a wine cabinet that provides a professional level of wine storage. With him you can be calm for the safety of the wine collection. It takes no more places than a regular refrigerator, and the classic strict design and implemented technologies allow using it at home, and in a restaurant, cafe, wine bar.

This is an optimal solution for both beginners and serious collectors. The only negative is the high price. But that collection of wines that you can store in this cupboard can cost much more.
---
More video. What should be a refrigerator in the XXI century? We tell on the example of Liebherr CBNPbs 4858
---